Thomas and Catherine Jeanette Roberts Vanderslice MacClement

I have a Record of the Family of William Roberts by Janette Vanderslice [from here on out referred to as FWR], which includes a one page testimony of Janette Vanderslice (grandmother of Caroline M. Rowe) dated September 24, 1862.  I don't know where all the information in the three or four page report comes from, but the mere fact that Janette's death (January 20,
1874
in Philadelphia) is referrenced leads me to believe that she may have done the testimony, but the rest is from someone/something else.
Thomas MacClement was born  November 3, 1811,1 in Bangor, County Down, Ireland. His father was also named Thomas (of Galloway shire, Scotland), and his mother was Sarah Jamison (a native of Bangor, County Down, Ireland).  He immigrated to the US in 1833 settling first in NYC and then Philadelphia.  By trade he was a tailor. 2

I have had a great deal of difficulty finding Thomas in the United States prior to 1840, could the history just be wrong? I've found plenty to prove his existence in the US once he arrived in Philadelphia, including the following application for
citizenship
. The application goes from page 1328-1331.
Know all men by these presents, that

Thomas Clement, Merchant Tailor, No. 38 Arch street (south side, below Second,) Has on hand and prepared to make to order in a fine assortment of Foreign and Domestic Cloths, Cassimeres and Vestings, any of which will be furnished at extremely low prices.

T.C. is also prepared to make up Garments at the following low prices, and pledges himself they shall not be surpassed by any in the city for elegance of style, fit or workmanship.

Making and Trimming Coats $2 to $8

Making and Trimming Pants and Vests, $1.50 to 1.75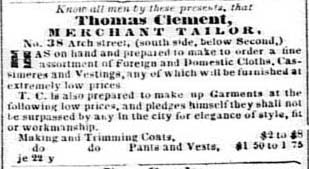 Philadelphia County, Be it Remembered, That on this Twelfth day of October in the year of our Lord one thousand eight hundred and forty before me, the Clerk of the Court of General Quarter Sessions, for the  City and County of Philadelphia, personally appeared Thomas Clement who being duly sworn according to law, upon his solemn oath did declare, depose and say, that he is a Native of Ireland now residing in the City of Philadelphia, aged 27 years  [abt. 1813], or thereabouts, and that it is a BONA FIDE his intention to become a Citizen of the United States, and to renounce forever all allegiance and fidelity to any foreign Prince, Potentate, State or Sovereignty whatever, and particularly to the Queen of Great Britain and Ireland of whom he is now a Subject. In witness whereof, I have hereunto set my hand, and affixed the Seal of said Court, this Twelfth day of October in the year one thousand eight hundred and forty. James Enue, Jr. His witness was C. J. Hoffman.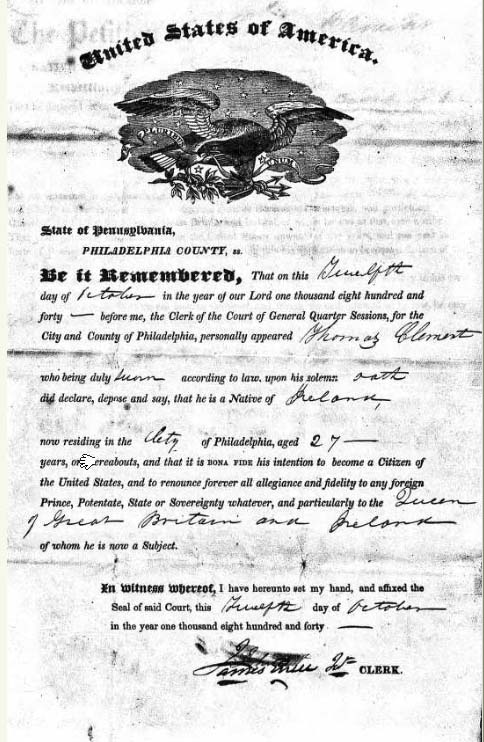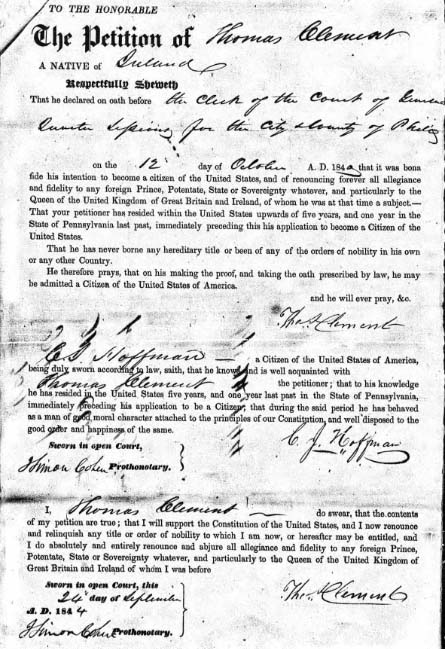 Again, I don't know for a fact that this is my Thomas, though I believe there is strong evidence. If indeed he came to Philadelphia in late 1840, he might not have had enough time to get his name in the 1841 city directory, but he does appear in the 1842. The only other Thomas who shows up in Philadelphia in the 1840s, is Thomas Clements, a weaver who doesn't start to show up in the city directories until 1844.  I just strongly believe the naturalization papers do indeed belong to my Thomas.

p.
1330
image courtesy of ancestry.com